GatorUnvrsty, on 22 November 2014 - 02:14 PM, said: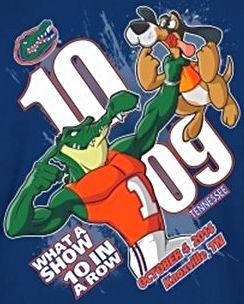 DjCrenshaw, on 22 November 2014 - 05:03 PM, said:
Not sure what that's supposed to show; I know news travels slower in some places than others, but UF announced they were letting him go a week ago... not much of a burn showing UF is upgrading.
I do thank the man for extending our winning streak over UT 4 additional games, beating the
out of UGA on his way out, and for cleaning up the program; but 6-4 (and yes I realize it'd be 7-4 if we'd gotten to finish the Idaho game) in year 4 and a 28 (29)-20 record overall just doesn't cut it.
But I guess it's an indication of where programs stand ultimately; teams' fans have different perceptions and coaching expectations...
Gators @ 28 (29)-20 with 4 straight wins over a primary division rival = Pink slip
Vols @ 10-13 with 2 straight losses to a primary division rival = "We're Back!" "Brick by brick!"