http://espn.go.com/b...or-madden-cover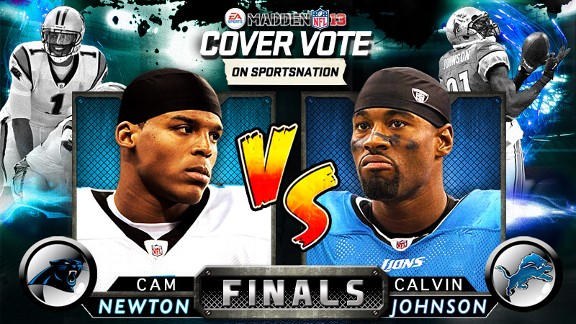 Quote
What was once 64 players vying for their spot in "Madden" lore is now down to two superstars competing for the spotlight of one cover.

It's Cam Newton versus Calvin Johnson with everything from the "Madden 13" photo shoot to that six-figure EA check to the dreaded cover curse on the line.

Fans have one week to vote, with the winner being announced on April 25 live on ESPN's SportsNation at a special set location in the heart of Times Square.

But the question remains, who will win the right to be on the "Madden 13" cover?

My money is on the upset kid, Calvin Johnson. Sure, Cam has received more votes overall since the competition began, but if you look at the way the numbers are trending, Johnson has been getting stronger, beating number one seed Aaron Rodgers by over 150,000 votes, while Cam barely squeaked out a win over Patrick Willis in the final four. In fact, after the first day of voting, Willis was actually ahead, but then Newton's fans rallied around their quarterback, leading to a narrow 52.6 to 47.4 percent victory.

That's why my mind's set on a Megatron cover. Besides, you can't curse a Transformer.