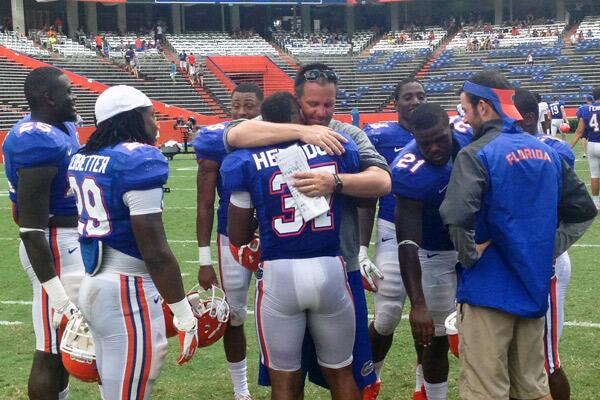 #37 is Florida Gators Sophomore Running Back Mark Herndon. He was a little known runningback out of Ocala, Florida who grew up a big Gator fan. During his high school career, he did well enough to attract offers from a few lower D-1 schools but none of them were UF. So instead of getting a free ride somewhere else he decided to pay out of pocket and walk on to play for the Gators, and at times that pretty difficult for him.
"I'll be honest, there were some nights I didn't eat because it goes on with the financial (situation)," Herndon said. "So I didn't eat like a full-course meal every night." Before Today, a typical meal for Herndon would be Ramen Noodles, or maybe a Pop Tart.
It's rare for walk-ons to see playing time in their first few years if they even do at all, but Mark was a big player on Special Teams last year for the Gators and this offseason has been a work horse in the training programs and has rightly earned a role in the runningback rotation.
This picture above was taken after Running Backs coach Brian White informed Mark that he had just been awarded a scholarship worth about $20,000.