Winter Haven Senior Caps Career With Title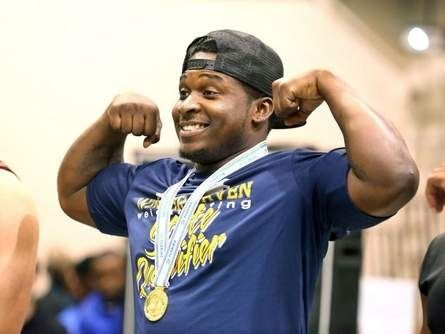 Winter Haven's Adam Lane shows off his muscles and his first-place medal after winning the 219-pound division at the FHSAA State Weightligting meet on Friday.
ERSNT PETERS | THE LEDGER
By
Bill Kemp
LEDGER MEDIA GROUP
Published: Friday, April 19, 2013 at 9:58 p.m.
Last Modified: Friday, April 19, 2013 at 9:58 p.m.
KISSIMMEE | It seems Adam Lane responds to every setback with a comeback.
The Winter Haven senior won the FHSAA state weightlifting 219-pound division title Friday at the Kissimmee Civic Center where he finished as runner-up a year ago after Sarasota's Luis Aguilar shocked the arena with a 370-pound state record clean-and-jerk.
"This is awesome, just awesome," said Winter Haven football and weightlifting head coach Charlie Tate, who also watched Lane come back from a broken ankle and reel off 1,624 rushing before signing a full-ride football scholarship with Florida in February. "His senior year could have gone so many different ways. It is a tribute to him and his family. I'm just excited for his future. He has a bright one."
Lane nailed a 735-pound total lift this year, easily besting Matt Roos of Spruce Creek by 20 pounds. During the process he topped the 219-pound field with a 415-pound bench press, becoming the only lifter to break the 400 barrier, and secured the judges' call on a personal-best 320-pound clean-and-jerk to win the gold medal.
http://www.theledger...?p=all&tc=pgall